We Believe
At Envive Chiropractic, we believe in:
smiling and treating you like FAMILY
same day & walk-in appointments
LISTENING to you
valuing your time
ASSISTING you when needed
simplifying paperwork
finding someone to HELP you if we can't
explanations that make sense to YOU
your body's ability to HEAL
fresh coffee, tea & water
About Envive Chiropractic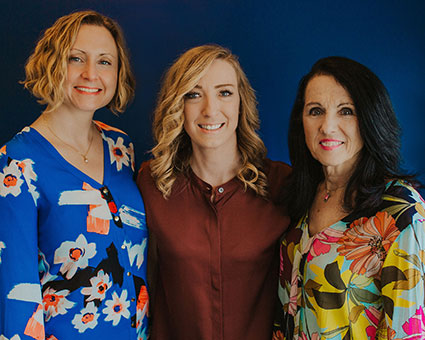 Envive Chiropractic was opened in 1985 but relocated to our new location in 2006. We've been proudly serving the Ajax community ever since!
Our Mission
At our practice, our entire team has one goal in mind each and every day: To add life to your life naturally. We do that by creating hope for our patients, who we see as a part of our family. We believe that everyone's needs are completely different and unique, and our doctors will never force you to participate in a care plan that you're not ready for.
Whatever your reason is for seeking chiropractic care, it's our job to get you better.
MEET OUR DOCTORS »

Welcoming Patients of All Ages
Our Ajax chiropractors are happy to see patients of all ages in our practice, from babies who have just been born to seniors well into their golden years. Simply put, if you have a spine—we're here for you!
A Patient Centered Approach for Wellness
One of the biggest aspects of our practice that sets us apart from others is our ability to listen to our patient's goals. Of course, we want you to feel better after our care, but we go beyond that. Through crafting focused care for you and your family, your body will be better able to adapt to stress in the long term, be it chemical, physical, emotional or environmental.
Learn More About Our Practice
We'd love to help you and your family feel better naturally with chiropractic care. If you're interested in learning more about how we can help you, contact our practice today to get started. We can't wait to meet you!


What We Believe at Envive Chiropractic | (905) 427-6772